Once upon there was a second day to the whole Birthday-palooza I planned for the Boyfriend…didn't read about Night One? Clickity Click here.
And we're back! So we woke up on Saturday exhausted from carousing on the streets of DTLA and he had no idea where we were going or what we were doing. I love surprises. Well for other people. Not for me. No, not for me. Yuck. Gross. *shivers* So we got up, showered and packed our stuff up into Betty Tres for a trek up the coast. On the way up the 101 Freeways we needed sustenance and caffeine to keep us from falling asleep. Okay mostly me cause I was driving and Betty doesn't have auto-pilot at all, so we stopped at the historically wonderful 101 Coffee Shop and by historic I mean I used to go there all the time back in the day when I lived up the street. True facts. We scarfed up our food and guzzled some Joe and then back on the road it was for us!
On the way up the road we made a couple of stops for gas and a pair of Chucks for The Boyfriend and then he figured it out. We were on the way to my favorite place in California…Santa Barbara. I adore SB. Not just cause my bestie Mr. C makes it his home when he's not battling that little bitch called Cancer but because as soon as I step out on the streets of that town a calm washes over my entire being. No more chaos. No more stress. No more freak outs about nada!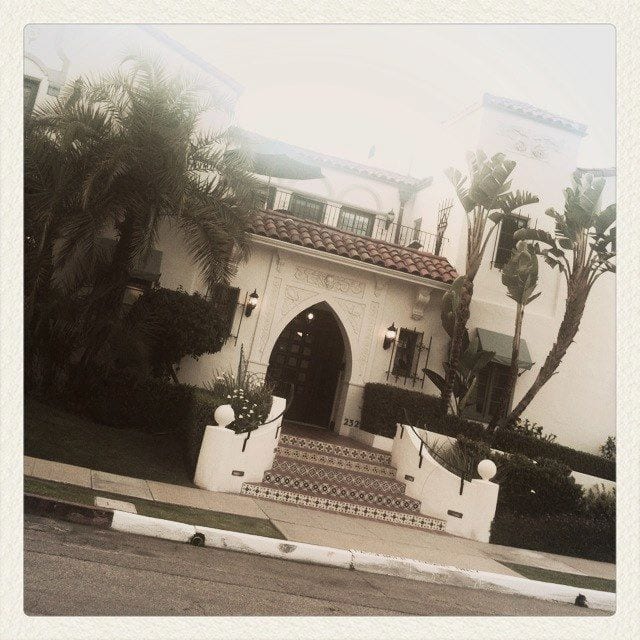 We hauled our stuff to The Eagle Inn which is situated in an area off of West Beach that is literally just two blocks from the beach and the popular haunts of State Street. Seeing as I always stay with Mr. C at his casa this was the first time in eons that I had to find a place to shack up in and well this was my first go at The Eagle Inn, so imagine my nerves. I'm sorta a Princess when it comes to lodgings. Seriously. I was raised with in hotels. My Dad was in the biz so I know a thing or two about why they put those little 'no hanger' stickers above fire alarm sprinklers. But this place was cozy and cute from the outside and the hostess who greeted us at the front desk was just the sweetest person I have encountered in Lodging Land.
The Boyfriend and I dragged our gear up the stairs of the adorable inn and when we entered in our room that I was honestly skeptical about, we both did a double take. Our queen room was more than pretty good as I described it to the Boyfriend it was spectacular! With our own private balcony that overlooked the front of the Inn we had a cute fireplace and flat screen TV all to ourselves. Oh and the floors. I'm a sucker for hardwood floors.end and I dra
Since the Boyfriend had never been to my land of wonder and awesome we immediately began to explore together in spite of our exhaustion. We had a blast walking on the beach and watching the Pelicans dive bomb the little fishies in the waves. As we stumbled around the Wharf looking at the sights we decided on food being necessary.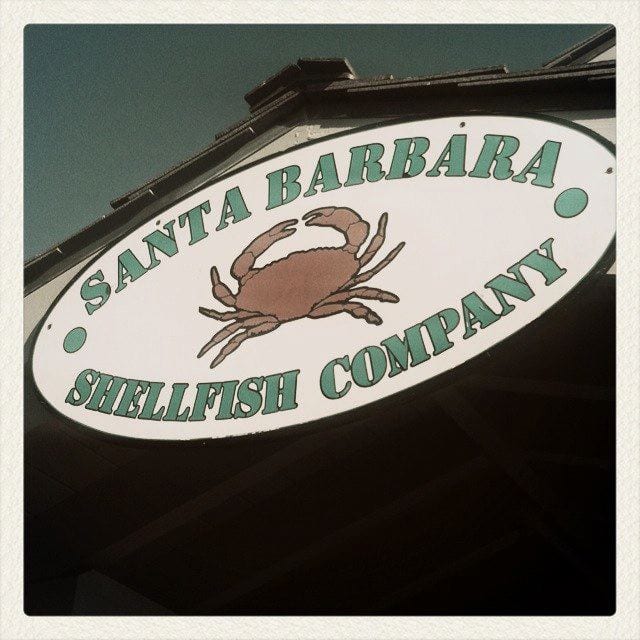 By the time we made it to the end of the Pier there was the Santa Barbara Shellfish Company at the end of the line. Nothing left. Dare we go back and partake in one of the other less busy larger restaurants or take chance at waiting until we were at the point of starvation? Thrill seekers we are we waited. Not too long but long enough that we were desperate with hungers. And it was well worth it. The staff was super awesome and quick like cat! We sat at the bar and watched the head Chef make our food right there. Oh my goodness it was epic. We will be back for more shrimps and crabs made to order and to perfection. Love. Love. Love.
As the evening wore on we stumbled some more…and later found ourselves walking up State Street to a wicked cool cigar shop, Santa Barbara Cigar & Tobacco, for what are now our favorite cigars and I won't tell cause I don't want y'all to swipe'em! The night was capped off with smokes and adult beverages on the balcony of our exquisite room with the sea breeze bringing in the fog slowly and blissfully.
There's way more to this amazing weekend…stay tuned.