Haven't read the beginning or the second one….? Check them out and then come back here.
On our last full day in Santa Barbara the Boyfriend and I got up in time for a yummy breakfast at the Eagle Inn and hopped on some bikes courtesy of the Inn and the friendly folks and we road down the coast. All the way to butterfly beach to watch the ocean waves jump onto the shore. It was bliss.
Walking along he shore we saw a whale breech and a pod of dolphins playing in the water. It was totes amazing. Love. Love. Love. The Boyfriend and I have been so uber busy that we have literally zero time to enjoy ourselves and these moments were perfect. The weather was perfectly amazeballs. Ugh. I can't wait to go back.
As we made our way back down the beach ot our bikes it was clear we needed some food. Thanks to the helpful planning of the folks at The Eagle Inn I was able to arrange for some certificates for yummy foods. We decided to grab some lunch  at Chuck's Waterfront Grill down the beach just a ways from our hotel and it was truly fantastic. Sitting there next to the water with all the boats docked and of course the water taxi Little Toot made the Boyfriends day. We grubbed on amazing grilled artichokes and enjoyed the calamari and shrimp and some pretty fantastic local brews. Yums.
To end the day we returned the bikes back to the Inn and got cozy in our room to settle in for an amazing Los Angeles Kings hockey game. And thankfully our room had Santa Barbara ducks on the fireplace and not Anaheim Ducks guarding our toasty fire.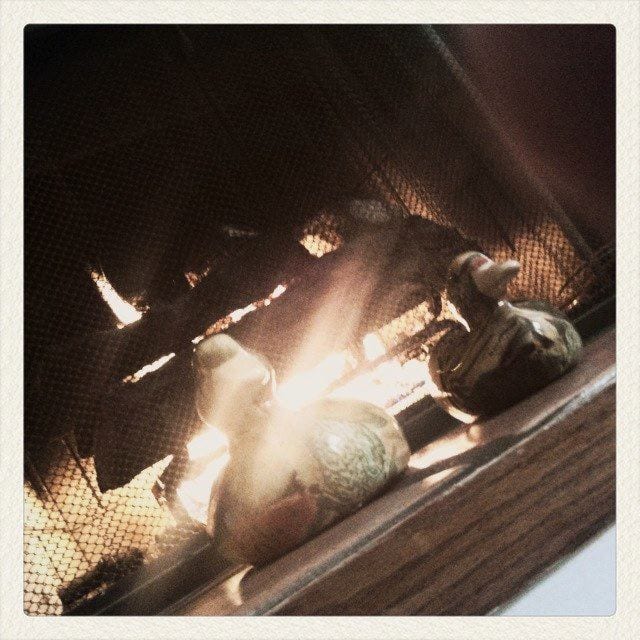 We can't wait to go back in October for my birthday…seriously it's already in the works. The next day we packed up our stuff had one last lunch at an amazing eatery in Downtown Santa Barbara called Opal and it was splendid. Mama sipped wine while we enjoyed the delectable pizzas. The entire staff was fantastic but our server was particularly friendly and knowledgeable about his wines and offered superb selections. It's on the list for a return for shizzle.
On the way home we found solace in the fact that we'd be back soon okay maybe sooner than October if we're lucky. *sigh*