The Boyfriend and I do our best to get away every now and then. We are true passion travelers with a desire to uncover the unknown but lately we've been finding that the local flavor in So Cal is full of hidden awesome.
This weekend found us taking the many freeways from our hidden burrow in SCV down to the OC for some friend time at California Adventure. Our Monkey-less weekends are usually spent wondering around the house and working on our freelance projects or building the amazing pet project we both have our hearts deep into Stark Social Media. But this weekend was something we both needed. Time with friends enjoying some adult beverages, chomp on turkey legs and tackle roller coasters. It was a blast. Seriously, we have the most fabulous friends in the world.
Last minute plans brought us to a local hotel that really wasn't fantastic, but served it's purpose. In the morning, I began searching Yelp for a place with bottomless mimosas and a wicked good brunch selection. Venturing deeper into Anaheim we found a little hidden piece of food win called The Gypsy Den. It is very rare that I find something or some place so deeply wicked cool that I have to share it. At first disappointment set it that we had barely missed breakfast and yet the menu was full of some extremely eclectic food items. The Boyfriend and I ordered the bottomless mimosas (only $10) and browsed the menu for something to settle the growling in our bellies. I grabbed the Stuffed Avocados that ended up looking like this…
I didn't grab a shot of The Boyfriend's giant tuna sandwich with chips BUT he had no complaints about missing breakfast. We browsed the menu boards hanging over the bar and noticed there was more to this place than healthy food items and amazing mimosa service. The entire staff was friendly and kept up with us and never made us feel like we needed to hustle away from our table. We were elated and could've literally sat there all day long…
With a wall of books that features some interesting titles and a music selection that kept the Boyfriend intrigued. Lots of new tunes to acquire when we arrived home and when The Boyfriend compliments a locations musical prowess then the place will be visited again and most likely again.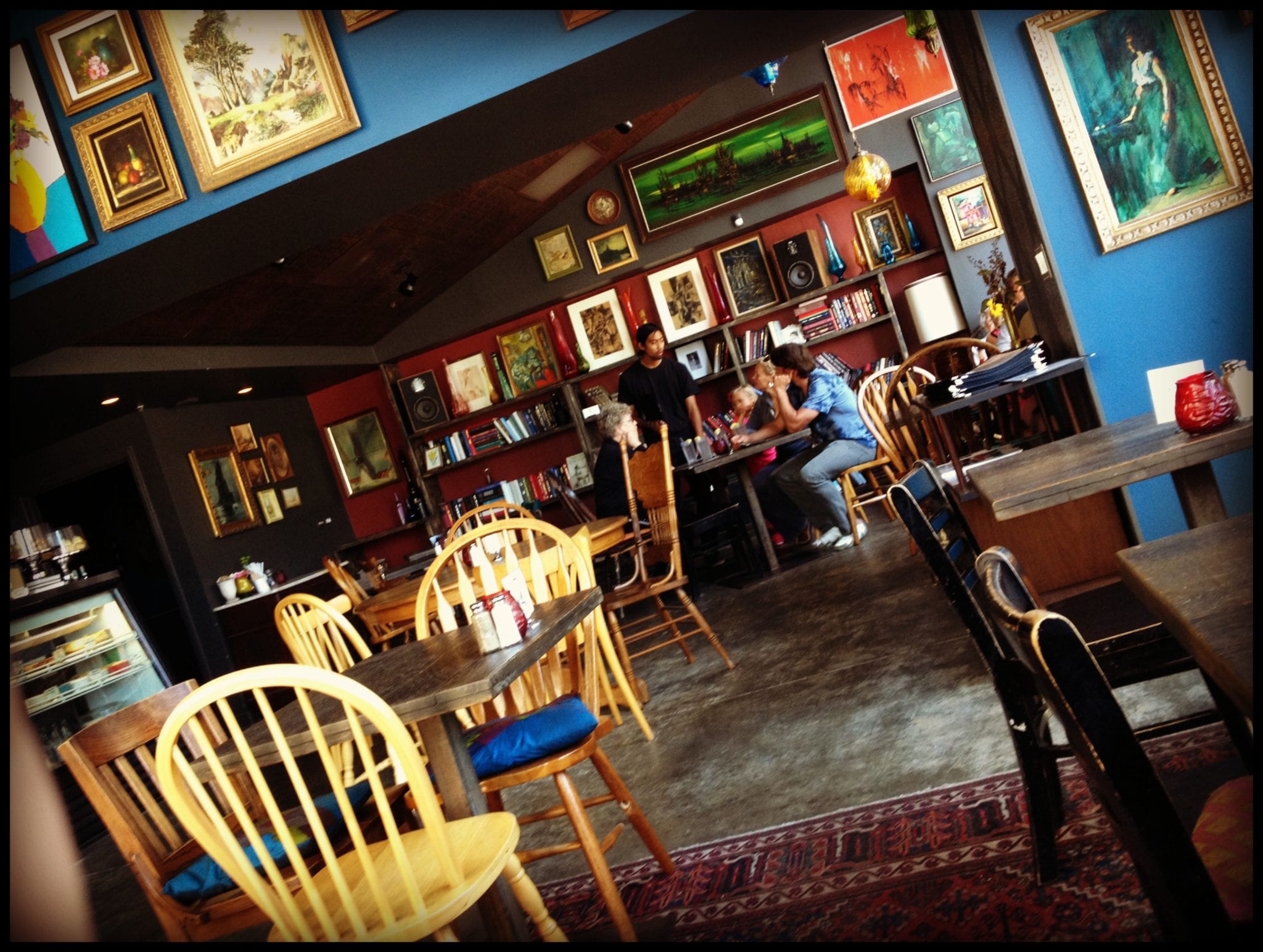 I couldn't get enough of the decor and the little touches that made my artsy fartsy heart swoon. From handmade throw pillows to art deco lamps to a great little  patio with lots of seating and trees and excuse me for being giddy about this entire place. When we go back we are going to make certain to partake of their outstanding beer selection and off the beaten path wine choices. Honestly, I cannot wait to go back there. With three location in the OC you can find one that is close to whatever part of the world is closest to you. The Anaheim location only serves breakfast until 11.30am with the others in Santa Ana and Costa Mesa serve until 3pm and their menu looks like a can't miss out (on again).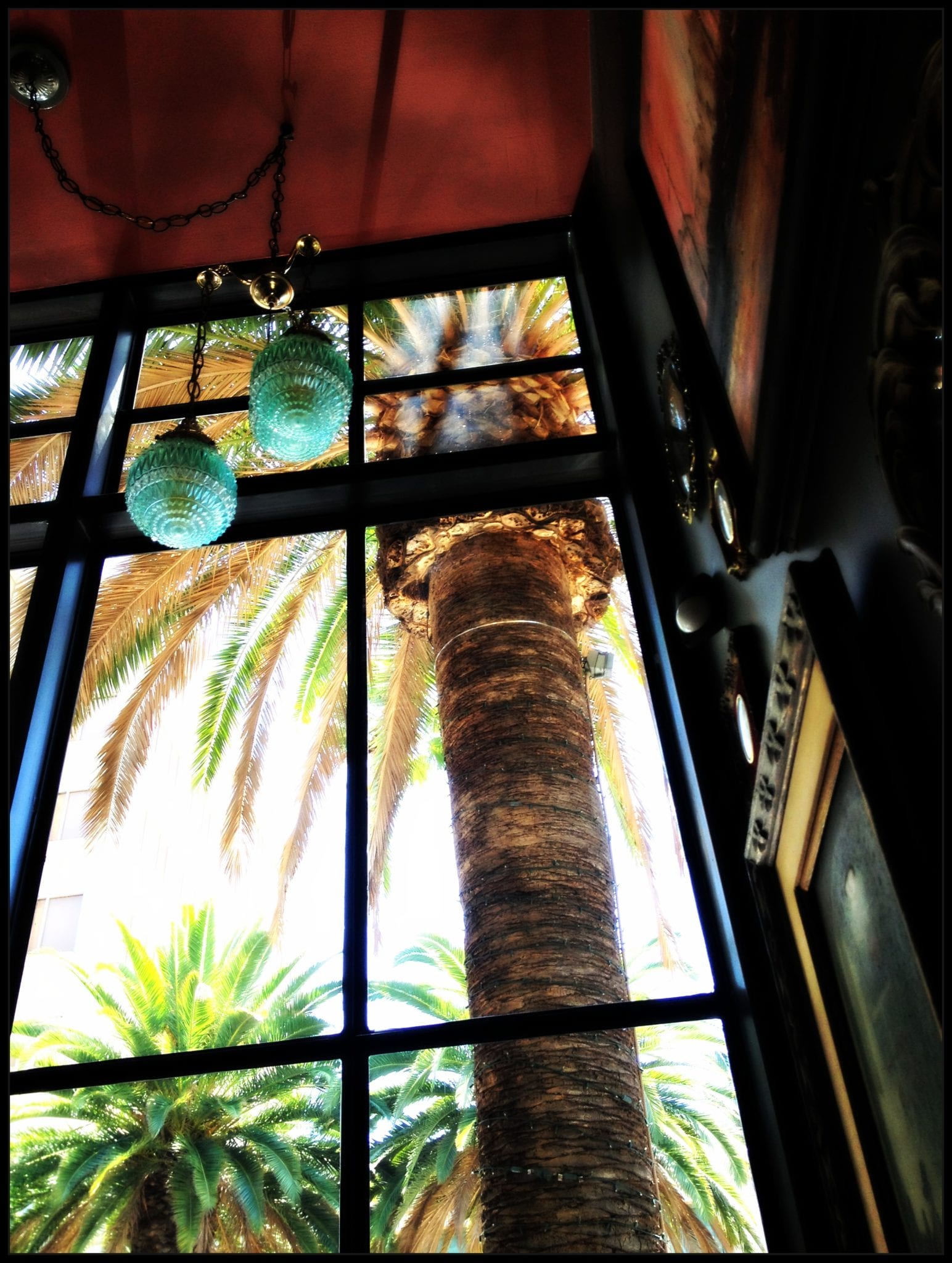 No I didn't get paid for this post and I will gladly go back and pay for more food and drink there. Noms!