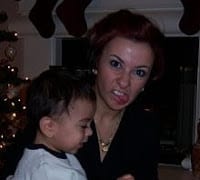 I had a ton of posts about random content and found that it was benign and silly…so, it got deleted. Done. Starting over.
I have found that over the last 4 years my life has been a whirlwind of emotion, actions and life experience. Therefore, I should share!! I should get myself up off the perverbial couch and do something with what is swirling around in the captive brain of mine.
I am a 30 year old single Mama…and by choice. My son was almost four months old and I took a look at my life and what is was becoming…then, one big deep breath, a river full of tears later and I left. Packed up what I thought I NEEDED and moved in with my parents.
November 2, 2006 marked the beginning of something…what it was at the time, I didn't know. But, now I'm hear with an almost 3 year old little Monkey and feeling like I am blessed just to know this person I have become and the little man I am guiding through this crazy world.
From today forward, I am going to work on finding a productive way to share how I made it to this point…good job, amazing family and the most precious little boy.
my reason for courage